Community Guide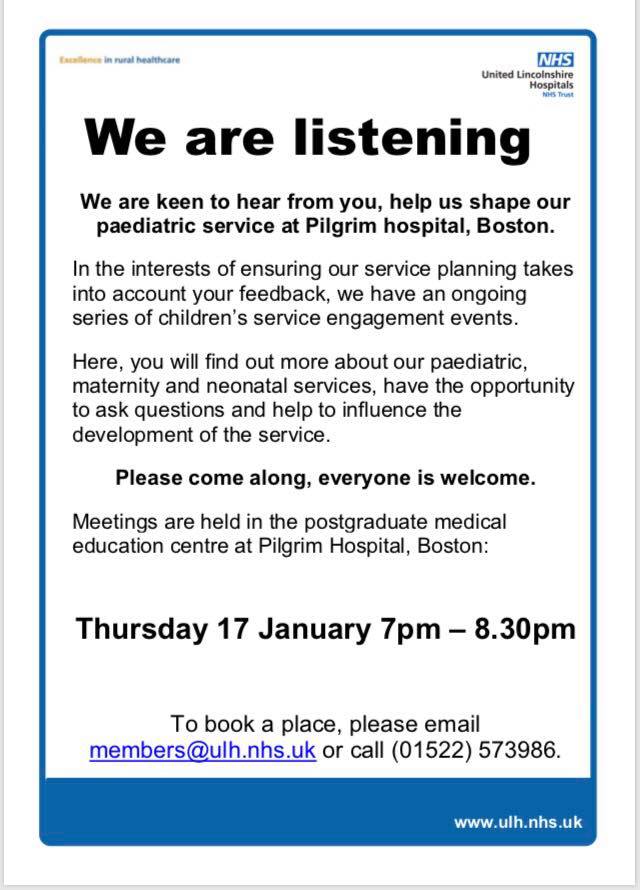 United Lincolnshire Hospitals NHS Trust Children Service Engagement Meeting
When: Thursday 17th January 7:00pm - 8:30pm
Where: Postgraduate Medical Education Centre, Pilgrim Hospital

Find out more about the paediatric, maternity and neonatal services, ask questions and help influence the development of the service. To book a place, call 01522 573986.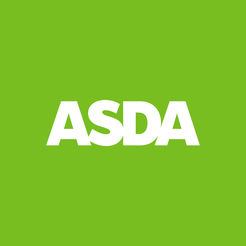 Drinkaware Event
When: Friday 18th January 11:00am - 5:00pm
Where: Asda Boston, Lister Way, Boston. PE21 8EQ

Drinkaware ambassadors will be giving out alcohol assessment scratchcards to invite consumers to reflect on their drinking habits. Customers will also be able to talk to the ambassadors to discuss any concerns they have about their own or family members' drinking. The aim is to help create awareness around the harms of alcohol and the health benefits of cutting down. Shoppers will be able to take home a copy of the Charity's 'Talking to your kids about alcohol' leaflet as well as free useful tools like alcohol unit measure cups and calorie wheels.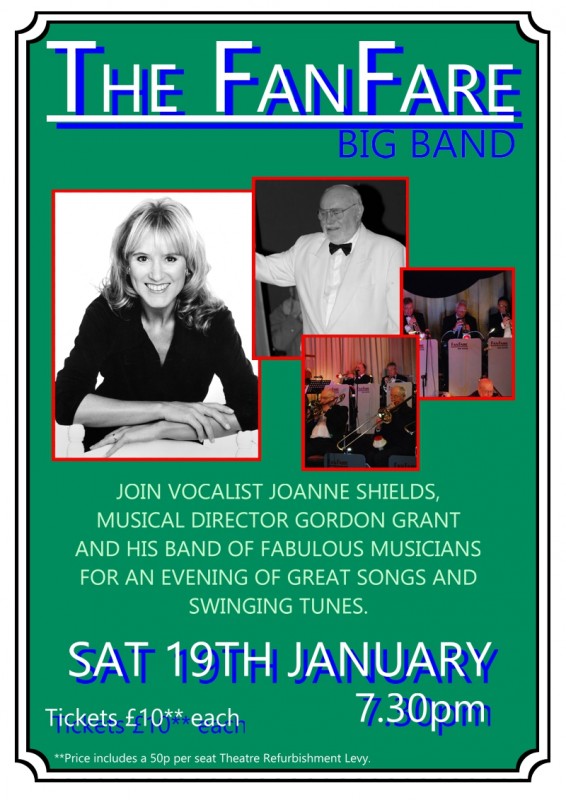 Fanfare Big Band Concert
When: Saturday 19th January 7:30pm
Where: Blackfriars Arts Centre

Join vocalist Joanne Shields, Musical Director Gordon Grant and his band of fabulous musicians for an evening of great songs and swinging tunes. 50% of all profits will be donated to "The We'll Meet Again Museum", Freiston Shore. Tickets £10. Book at blackfriarsartscentre.co.uk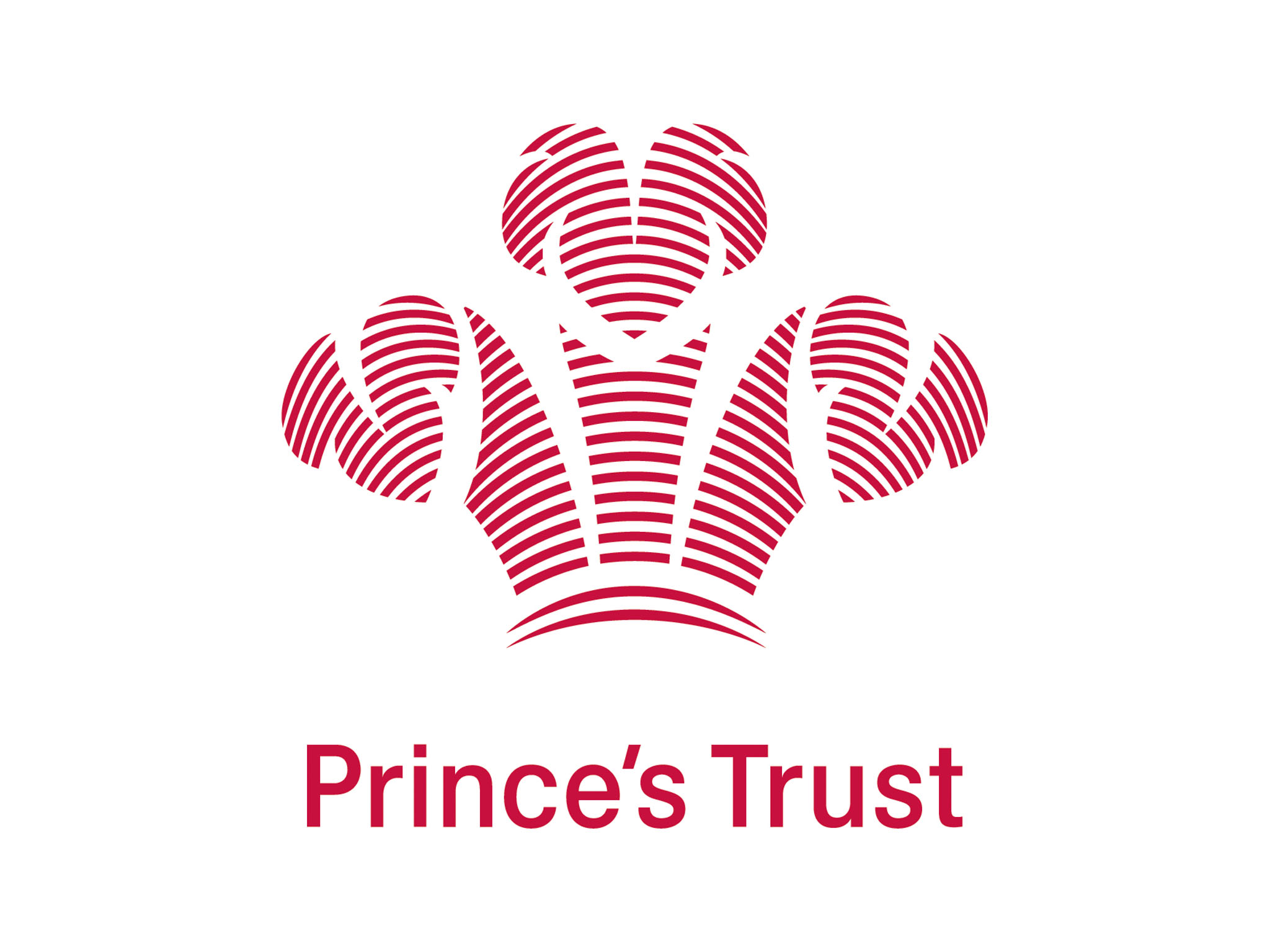 Prince's Trust Team Programme
When: Monday 21st January 9:00am
Where: Restore Church, Station Steet, Boston

Free 12 week training programme for unemployed 16 -25 yr olds. Personal development and employability training. Uncover hidden talents, develop teamworking and communication skills, gain qualifications. Make new friends.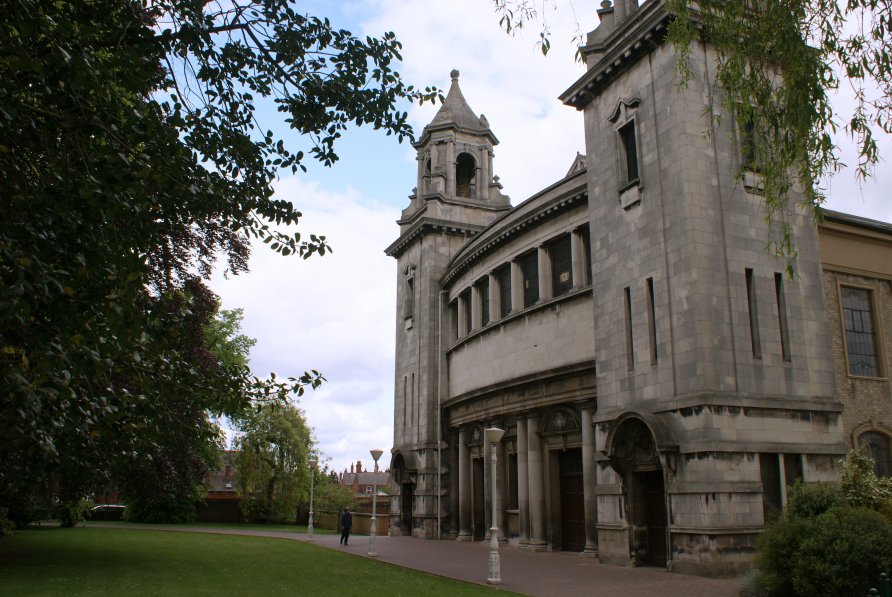 Birthday FUNdraiser
When: Saturday 26th January 10:30am - 2:00pm
Where: Centeary Methodist Church, Red Lion Street, Boston (Main Hall)

Birthday Fundraiser in aid of raising money for Young Minds Charity. For more information, email estheresteem.tlc@hotmail.com or call 07834385110.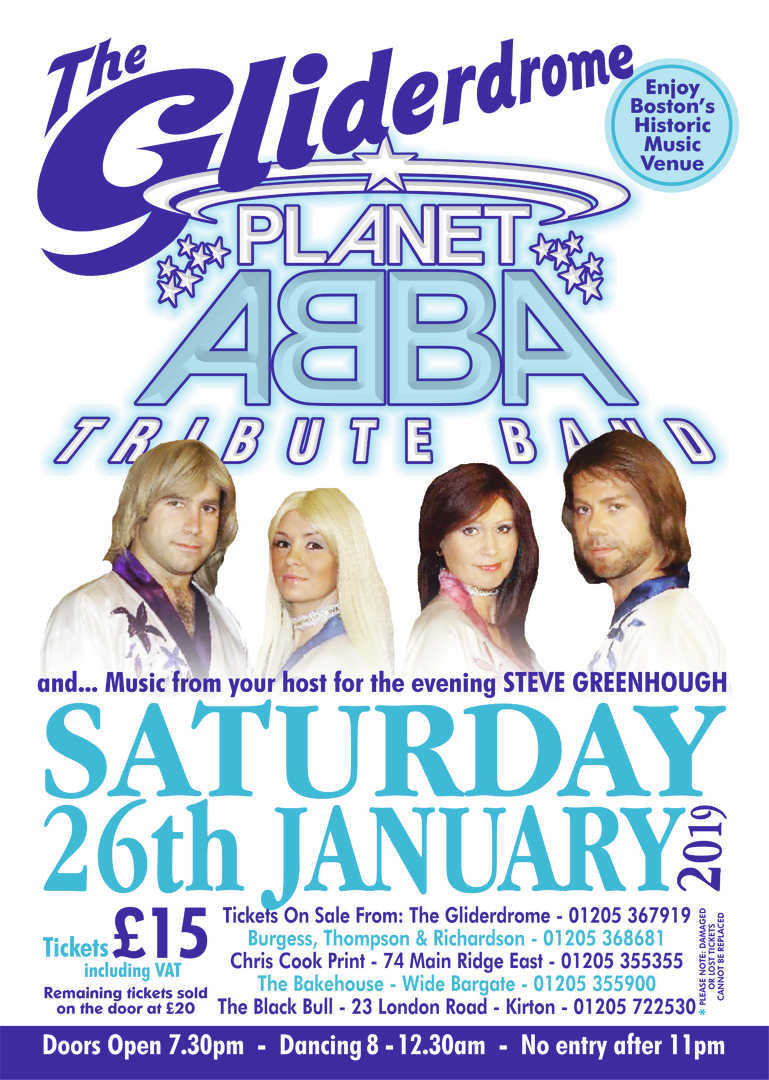 Planet Abba
When: Saturday 26th January 7:30pm - Sunday 27th January 12:30am
Where: The Gliderdrome, Spain Place, Boston

Established now for over ten years, Planet Abba continues to be the UK's leading Abba tribute band. Tickets on sale now, £15, from: The Gliderdrome, Chris Cook Print , Thompson & Richardson , The Bakehouse Café, The Black Bull Pub Kirton or at theticketsellers.co.uk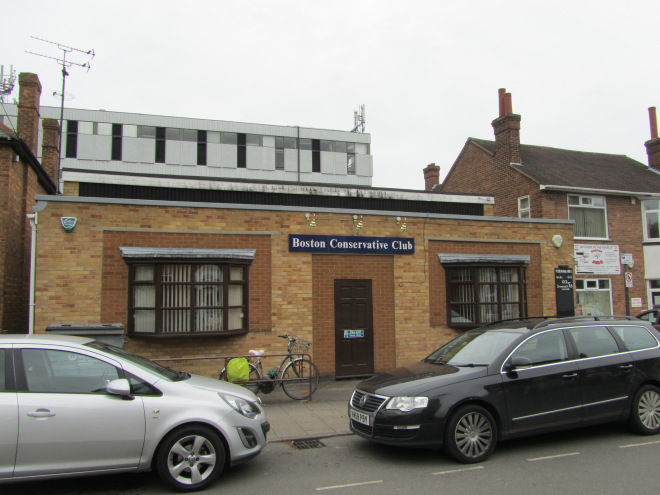 Boston and Hakusan City Exchange Fish n Chip Supper & Race Night
When: Friday 1st February 7:00pm
Where: Boston Conservative Club

Prizes to be won and family fun. Racing starts at 7.30pm. Tickets are £10 which includes fish n chip supper. Get together for a great night of entertainment. For tickets, call Matt on 07713277104. All proceeds support Boston's young ambassadors on their exchange to Hakusan City, Boston's sister community in Japan.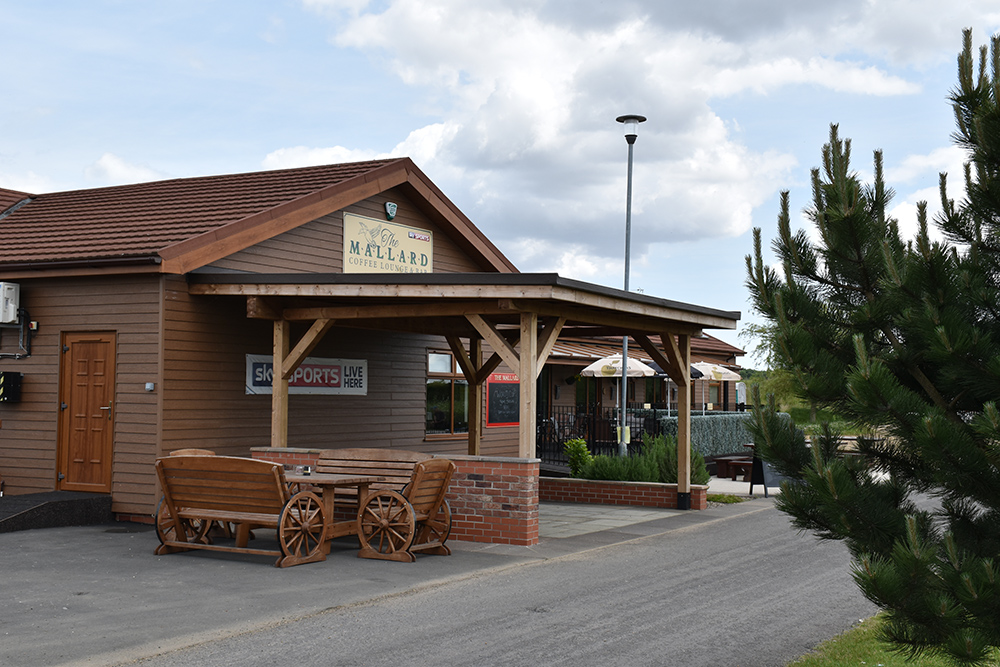 Rock Night
When: Saturday 23rd February 8:00pm - 11:59pm
Where: The Mallard Bar, Westwood Lakes

An evening of fantastic rock music. Free Entry. Entertainment provided by AAA Disco. Find The Mallard's contact details at westwoodlakes.co.uk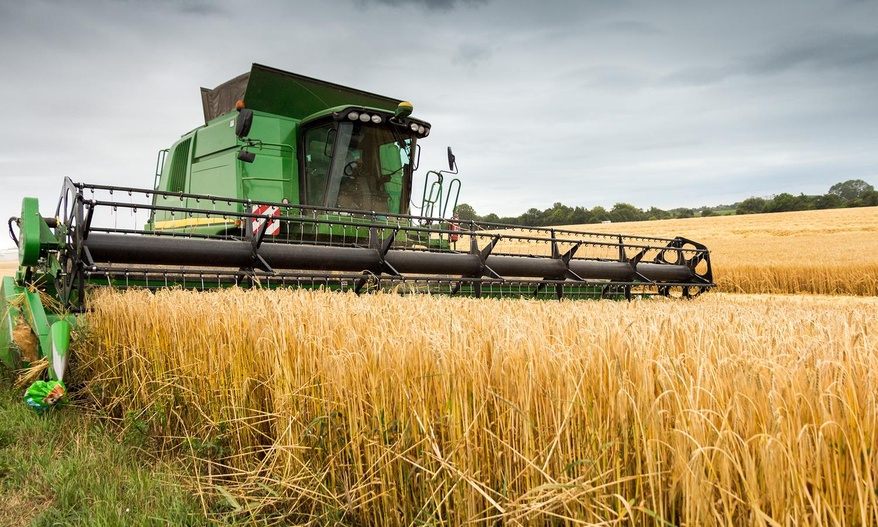 Celebration of Farming
When: Sunday 24th March 10:00am - 3:00pm
Where: Market Place, Boston

Boston's Celebration of Farming event is returning for it's third year. There will be a wide range of vintage and mordern farming equipment and tractors, stalls to browse and free family activities such as cabbage bowling and crafts.
Emerge Boston Festival
When: Saturday 6th April 11:00am - 3:00pm
Where: Boston Central Park

Emerge Boston Festival is a free family friendly event with games, performances and music throughout the day. They are looking for catering, bands, volunteers and performances to become a part of this Shakespeare inspired festival. email georgie@shakesperts.com to find out how you could get involved!
Boston and Hakusan City Exchange Car Boot Sales
When: Sunday 7th April 8:00am - Sunday 9th June 1:00pm
Where: Boston College Car Park, Skirbeck Road, Boston

On Sunday 7th April, 28th April, 19th May, 9th June. All hard-standing. Set up from 7am. No booking required - cars only. £5 per pitch, all proceeds going to Boston and Hakusan City Exchange. Any enquiries call Matt on 07713277104.