Community Guide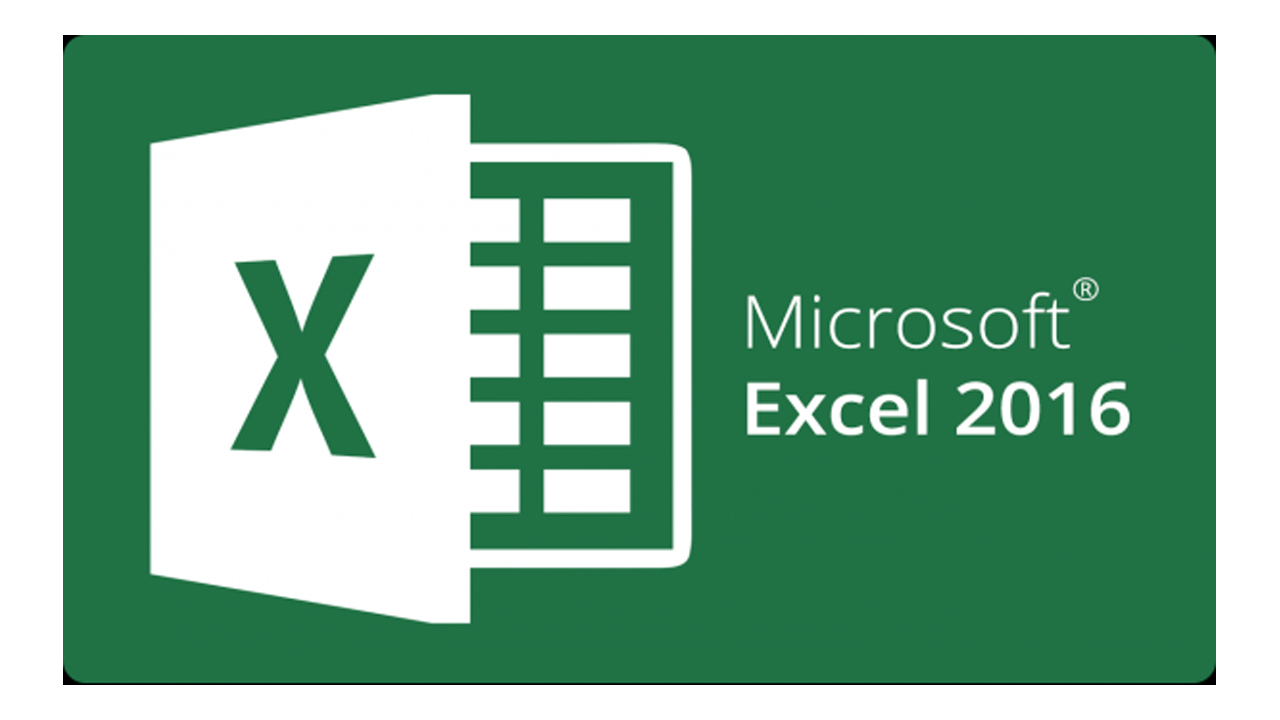 TaylorITEX Making Spreadsheets Simple
When: Wednesday 6th March 10:00am - Wednesday 27th March 2:00pm
Where: Black Sluice Lock Cottages, Boston

Using Excel 2016. This is a 4 week course for people who need to learn or improve Spreadsheet skills. Aimed at beginner and Intermediate Level Suitable for those in work or looking for work. To book your place call Julie on 01205 360800
TaylorITEX Talking English
When: Saturday 9th March 10:00am - Saturday 13th April 1:00pm
Where: Fenside Community Centre

If you know someone who doesn't have English as their 1st language and would like to improve their Conversational English Skills please tell them about the New "Talking English" Course Starts Saturday March 9th until 13th April 10am until 1pm Family Friendly, FREE, Fun. Suitable for all levels of English. Call Julie on 01205 360800 or email julie@tayloritex.co.uk to book your place

JDRF 80's Disco Night With DJ Shaun Neal
When: Saturday 23rd March 7:30am
Where: Boston Conservative Club

Get your tickets for a guaranteed fab 80's night £10 each for a fully themed 80s disco party night & bar with the added fun of Karaoke. Proceeds to JDRF (a 'Type 1' Diabetes Charity) For tickets, email Jenny - jap79@me.com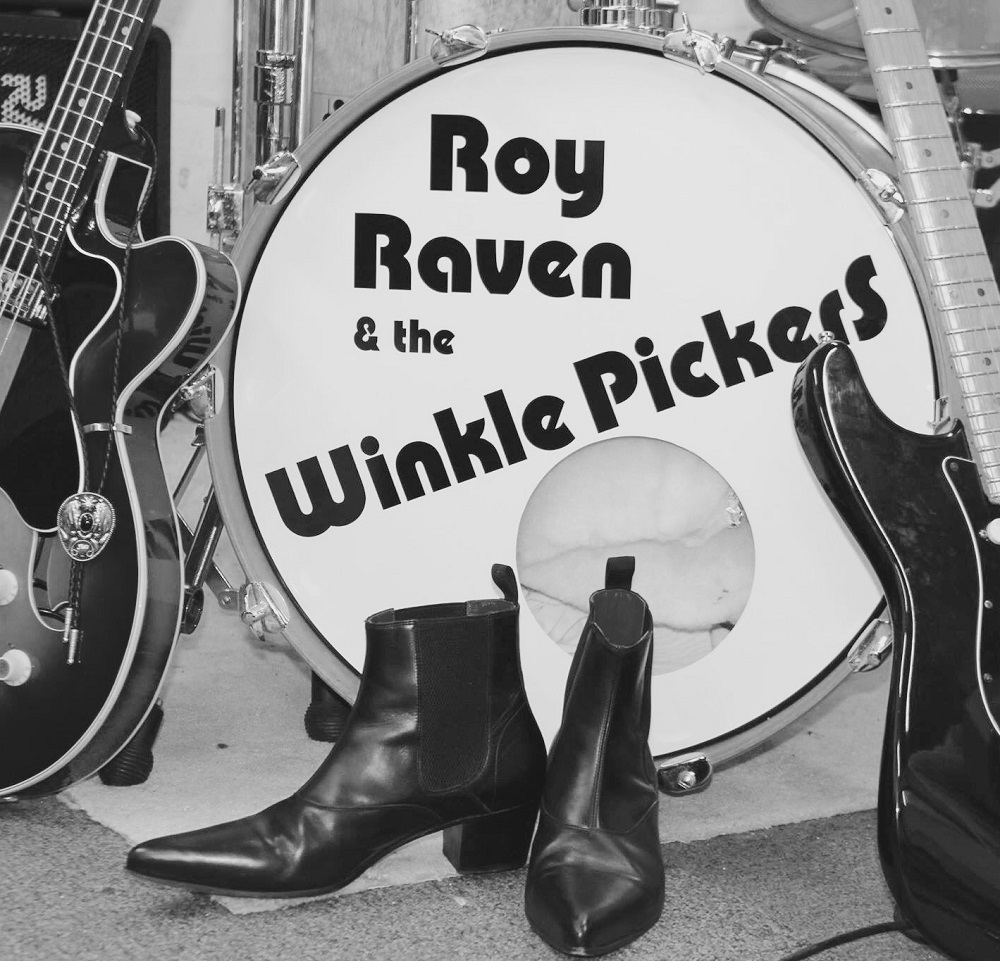 Rock n Roll Night
When: Saturday 23rd March 7:30pm
Where: Danny Flear Centre, Freiston, PE22 0LH

Fantastc night of music and dancing. Roy Raven and The Winklepickers supported by Jive Amour will be providing the entertainment. 7.30pm to late. Tickets are just £10 - call Rachel on 07985033473.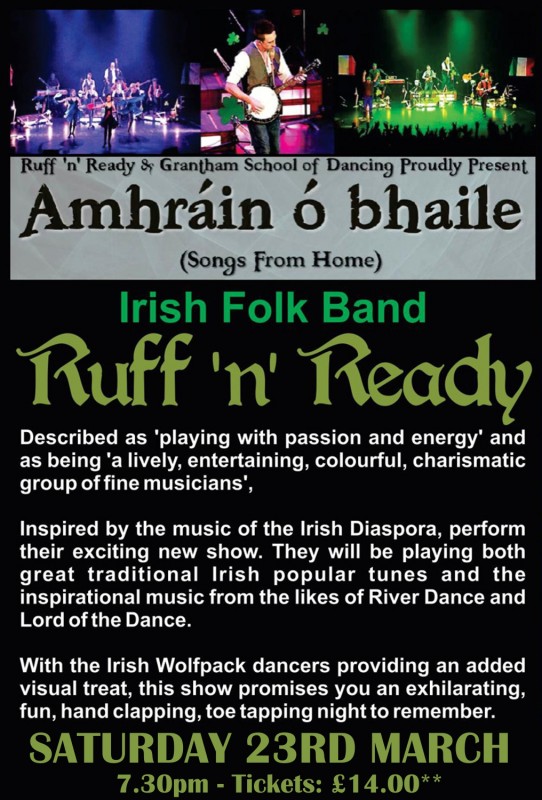 Ruff 'n' Ready - Irish Folk Band
When: Saturday 23rd March 7:30pm - 9:30pm
Where: Blackfriars Theatre

Inspired by the music of the Irish Diaspora, the band perform their exciting new show. Playing both great traditional Irish popular tunes and the inspirational music from the likes of River Dance and Lord of the Dance. Tickets £14. Book at blackfriarsartscentre.co.uk or call 363108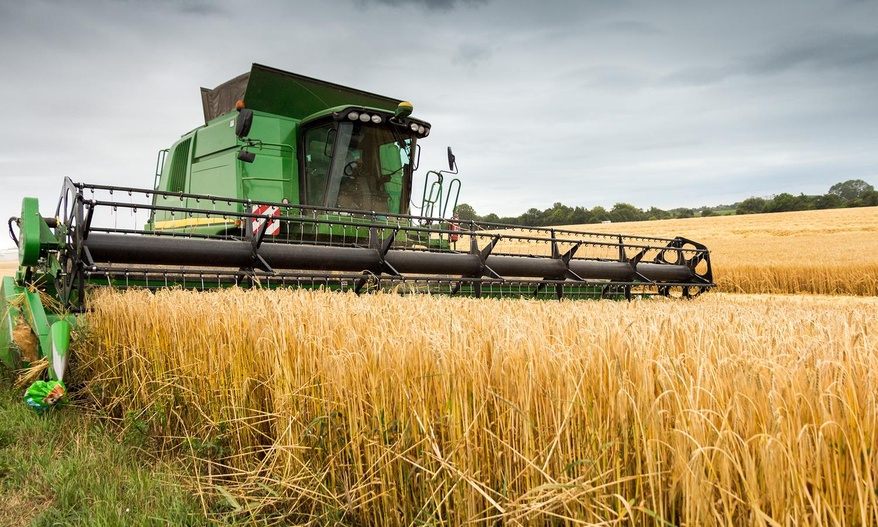 Celebration of Farming
When: Sunday 24th March 10:00am - 3:00pm
Where: Market Place, Boston

Boston's Celebration of Farming event is returning for it's third year. There will be a wide range of vintage and mordern farming equipment and tractors, stalls to browse and free family activities such as cabbage bowling and crafts.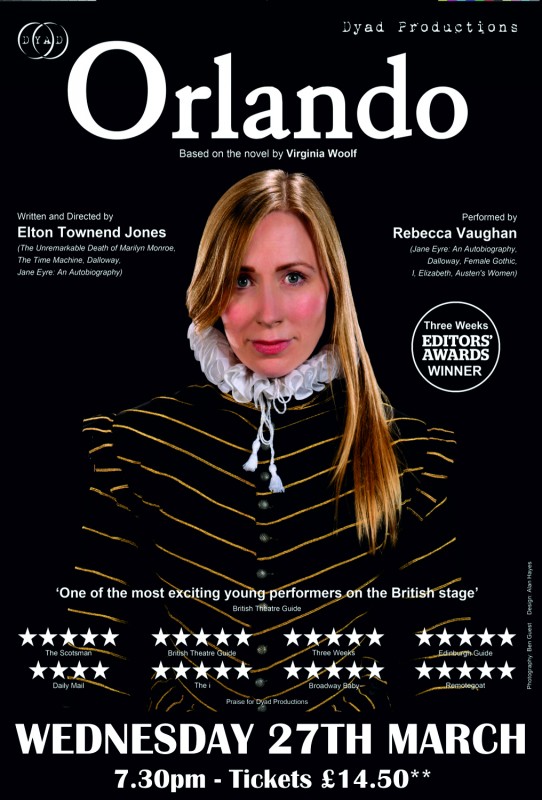 Orlando
When: Wednesday 27th March 7:30pm - 9:30pm
Where: Blackfriars Theatre

Based on the satirical 1928 novel by Virginia Woolf. Explore what it means to find our place in the world whilst remaining utterly true to who we are. Tickets £14.50. Book online at Blackfriarsartscentre.co.uk or call 363108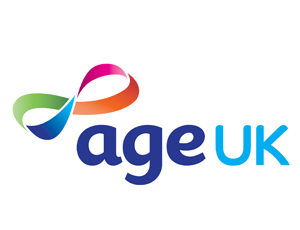 Age UK Lunch Club
When: Thursday 28th March 11:45am
Where: Haven High Academy

The start of a lunch club on the last Thursday of each month at the school. A two course hot dinner will be cooked by the chef and his team. Please book by calling Age UK on 364161. Transport may be provided.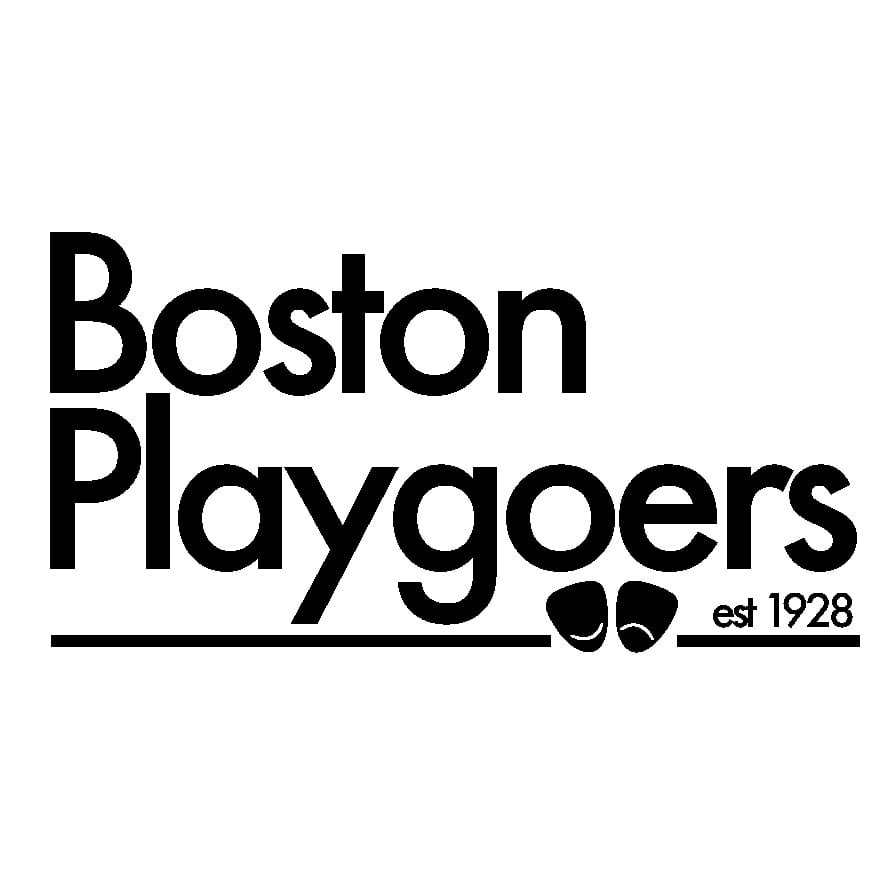 Play Reading / Social Night
When: Friday 29th March 7:30pm
Where: Blackfriars Art Centre

They will be reading two new plays written by local authors and members of the society, and an episode of a popular tv sitcom. Anyone interested in joining to "tread the boards" or help backstage are welcome. The bar will be open for refreshments. For more information visit the "Boston Playgoers Society" Page on Facebook.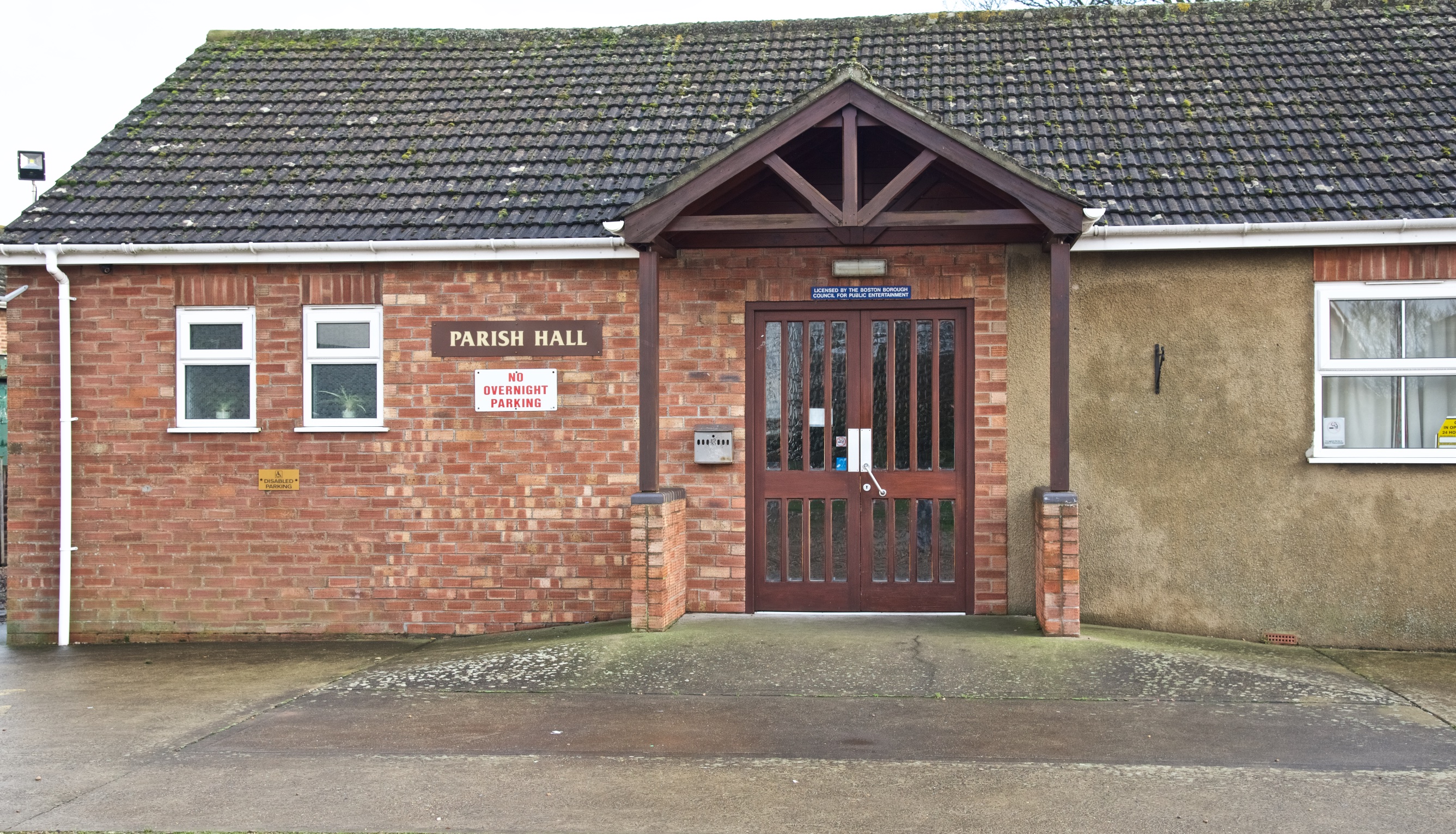 Prize Bingo
When: Saturday 30th March 6:30pm
Where: Wrangle Village Hall

Doors open at 6.30pm, eyes down for 7pm. Fun filled family evening, raffle, refreshments and a tombola. In aid of Keith's Rescue Dogs and other local causes.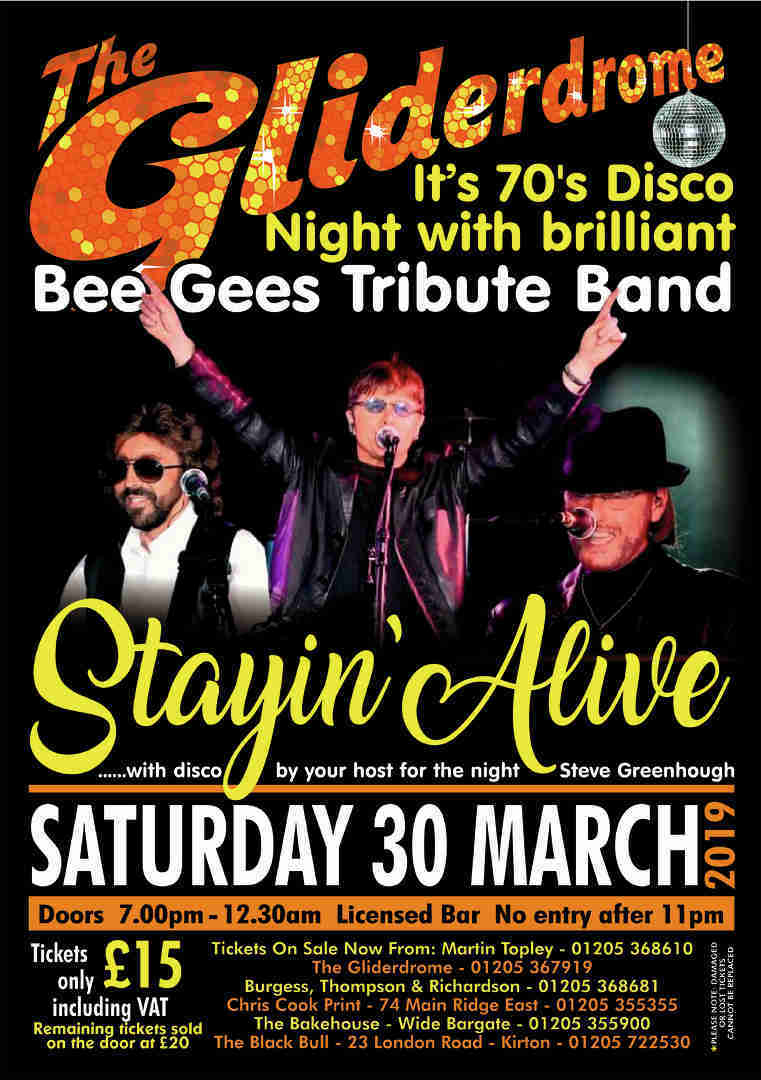 70's Disco Night
When: Saturday 30th March 7:30pm - Sunday 31st March 12:30am
Where: The Gliderdrome

Saturday Night Fever comes to the Gliderdrome with a 70's Disco Night featuring the UK's number 1 Bee Gees tribute "Stayin Alive". Steve Greenhough will be playing the best hits from the 70's too. Tickets on sale now £15 from: The Gliderdrome Chris Cook Print Thompson & Richardson The Bakehouse Cafe The Black Bull Pub Kirton theticketsellers.co.uk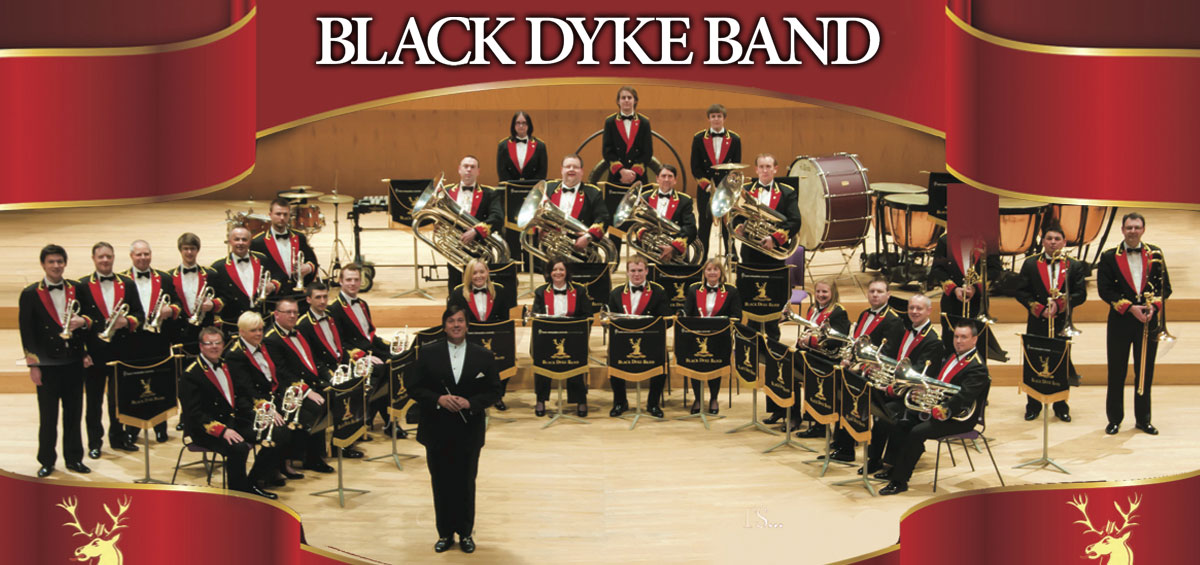 Blackdyke Band
When: Saturday 30th March 7:30pm
Where: Centenary Methodist Church, Red Lion St

Hosted by Boston St Botolph Rotary Club and The Butterfly Hospice Trust. Tickets £15, available from any Butterfly shop or the Stump Gift Shop.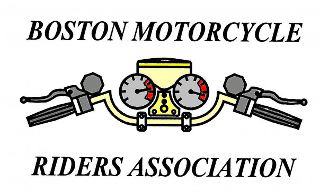 First Ride Out 2019 Boston Motorcycle Riders
When: Tuesday 2nd April 7:00pm
Where: Hammer & Pincers, Boston

A motorcycle club based in Boston. Like minded people of all ages, all types of bikes, anyone welcome to join. First ride out to OK Diner Peterborough. New members sought to get involved. For more information visit bostonmotorcycleriders.co.uk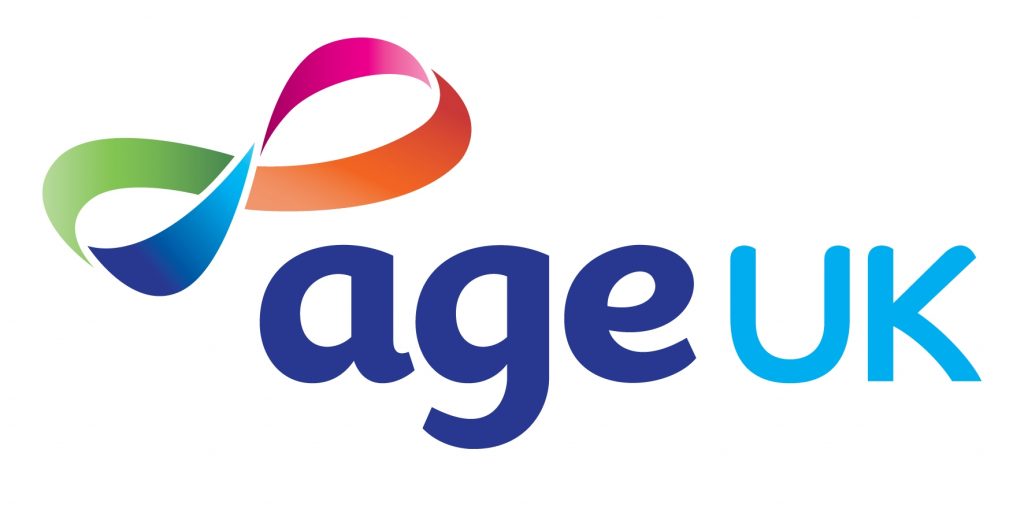 Age UK Monthly Craft Club
When: Wednesday 3rd April 10:16am
Where: Chantry House, 3 Lincoln Lane, Boston

First month will be Iris Folding. Cost of the club is £6 which will include all materials and refreshments. In the coming months at the club will be decopatch, mosaic tiles and sewing. Limited number so please book by calling Age UK on 364161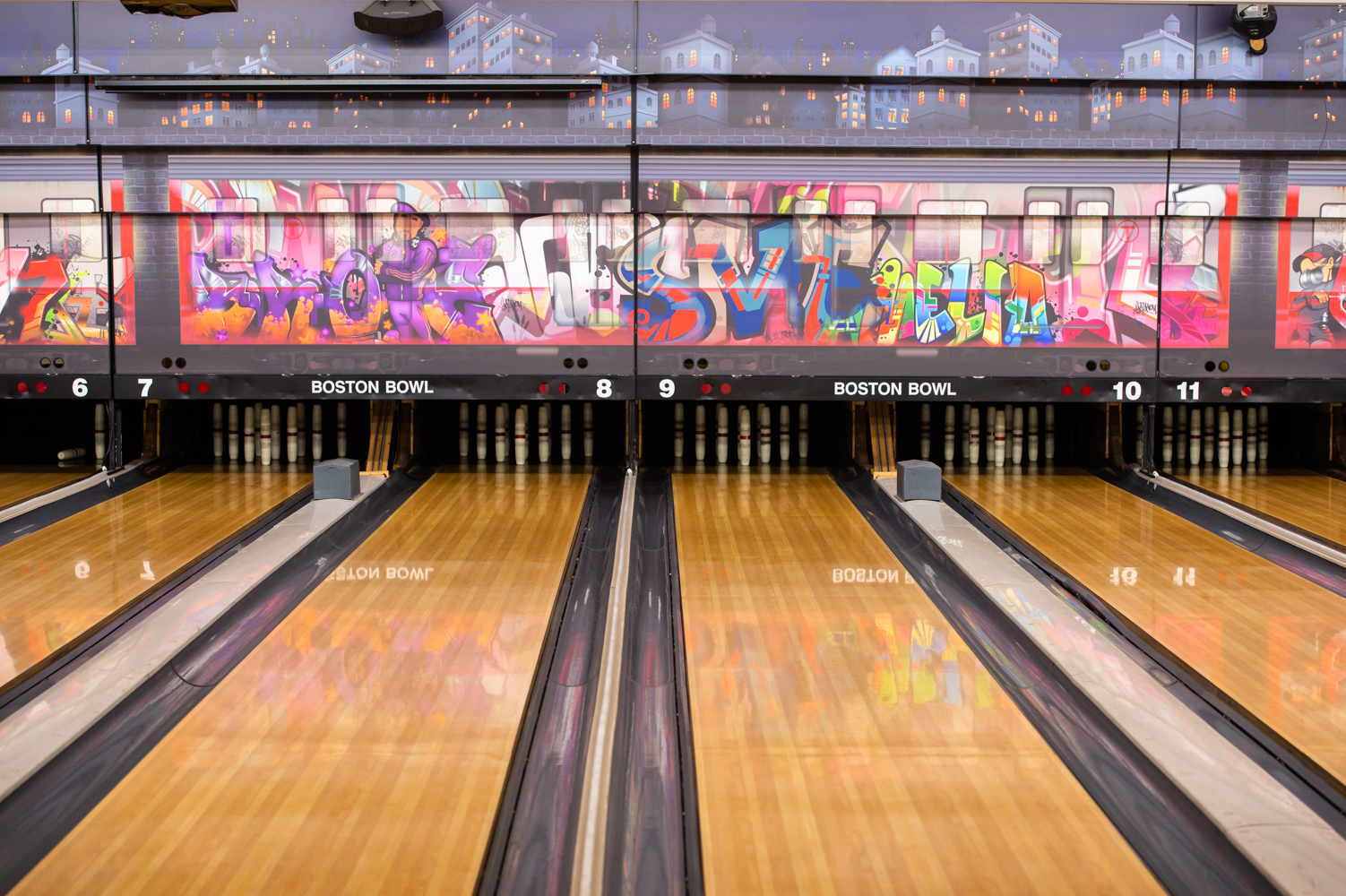 Games Central with Boston Bowl presents
When: Friday 5th April 6:00pm - 9:00pm
Where: Boston Bowl

Can you beat the rest and become the first ever GC champion? Also play a wrestling game from the past with your friends on free play as well as another multiplayer game. Dress as your favourite WWE superstar and bowl for £2 (otherwise it's £3.50). Wrestling merchandise will be for sale too. Try the Wii bowling competition and combine that score with your real bowling score. The highest combined score on the night wins a prize. So much to do on one night so get yourselves there!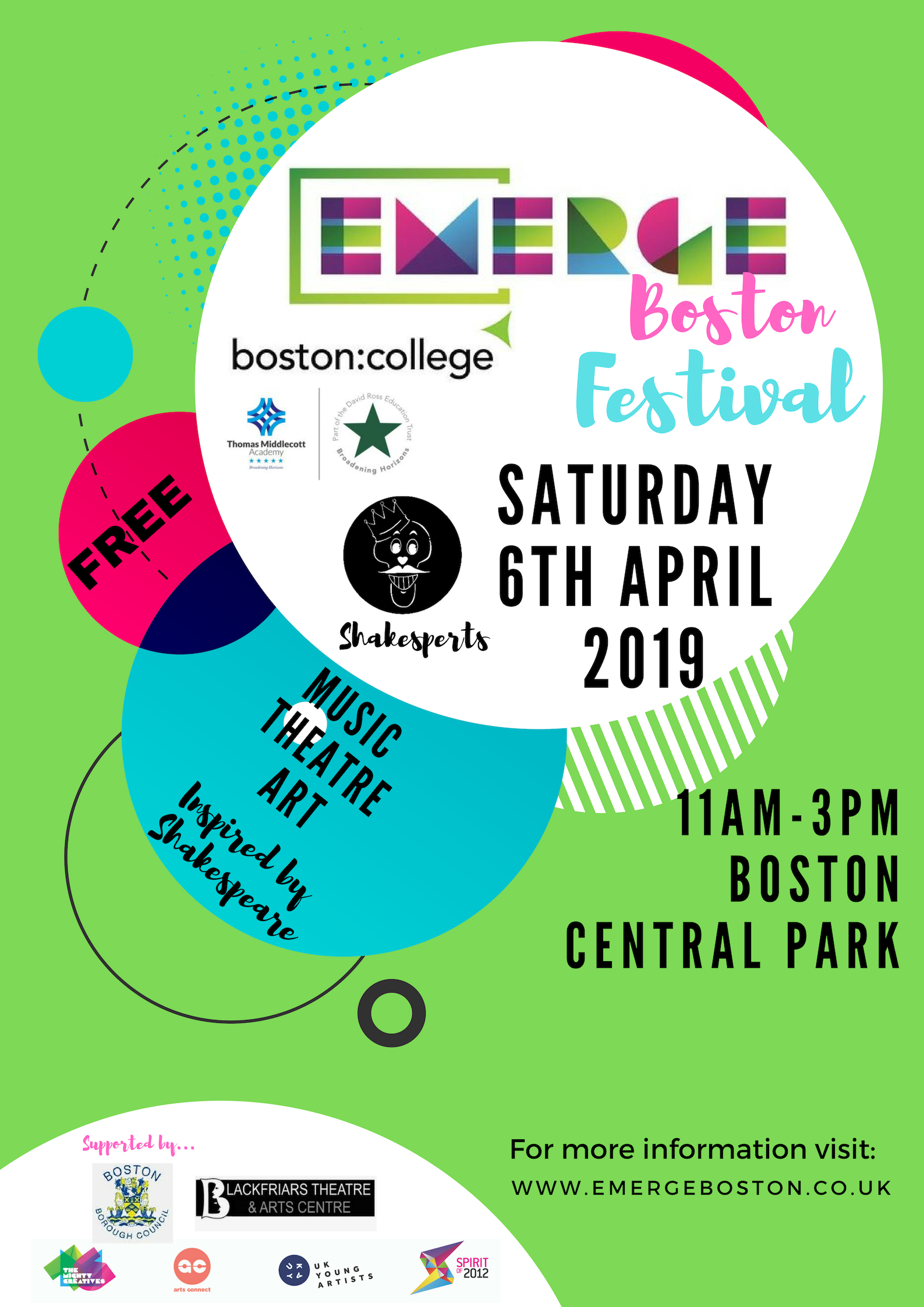 Emerge Festival 2019
When: Saturday 6th April 11:00am - 3:00pm
Where: Central Park, Boston

A free family friendly event with games, performances and music. Emerge has been made with Schools and Community groups in Boston who have selected some of the best acts for your entertainment! The "Shakesperts" have shaken up Shakespeare for you to experience his plays in a whole new way; from an immersive tunnel to throwing ingredients into a couldron to win a prize, this festival has everything to delight and surprise. Free entry, however you MUST have fun!
Boston and Hakusan City Exchange Car Boot Sales
When: Sunday 7th April 8:00am - Sunday 9th June 1:00pm
Where: Boston College Car Park, Skirbeck Road, Boston

On Sunday 7th April, 28th April, 19th May, 9th June. All hard-standing. Set up from 7am. No booking required - cars only. £5 per pitch, all proceeds going to Boston and Hakusan City Exchange. Any enquiries call Matt on 07713277104.
Afternoon Tea, Story Telling & Shodfriars Hall Tour
When: Sunday 7th April 1:30pm - 5:00pm
Where: Shodfriars Hall, Boston

A guided tour of one of Boston's most historic buildings with afternoon tea and storytelling of fables and journeys around the world by David Judd & Joy Pitt. Members £8 & Children £5. Non-members £16 & Children £10.
Afternoon Tea
When: Sunday 7th April 4:00pm - 6:00pm
Where: Boston Conservative Club, PE21 6QQ

All money raised for The Butterfly Hospice Trust. £10 per person To book call 362309
Live Rock n' Roll Night with Redboot and Jive Amour
When: Friday 12th April 7:30pm - 11:59pm
Where: The Sportsman Bar Roseberry Ave Boston

An evening of Jive, Rock n Roll and Strolls with the amazing live band RedbooT. tickets £10. Great venue with plenty of free car parking. Free optional beginners Jive lesson at 7.30pm. All welcome.
East Midlands University Air Squadron 24 Hour Football Match
When: Thursday 18th April 10:00am - Friday 19th April 10:00am
Where: RAF Cranwell

Match in aid of Cardiac Risk in the Young which raises awareness and publicity on how young people can better look after their heart. The Event will be run by student members of the Squadron. Family fun day with activities, bouncy castles, raffles and more. A number of Non league clubs will be taking part and all are welcome.
Living with Diabetes Evening
When: Thursday 25th April 5:30pm - 9:00pm
Where: Boston United Football Ground

Organised by local NHS services and Diabetes UK. The evening will be an opportunity for those living with diabetes to have conversations with local health care professionals about how to best manage their health. The setting is informal and refreshments will be provided.
Outdoor Cinema - The Greatest Showman
When: Friday 26th April 7:00pm - 10:00pm
Where: Central Park, Boston

Back by popular demand, the Greatest Showman Sing-A-Long will return for another outdoor cinema screening. Early bird tickets £5.50 for adults, £4 concessions and £3.50 for children. On the gate tickets are slightly more. Buy online at visitbostonuk.com
TEA FOR VICTORY 1940's Tea Dance
When: Saturday 27th April 3:00pm - 6:00pm
Where: Hubberts Bridge Community Centre, PE20 3SG

TEA FOR VICTORY with Miss Sarah Jane, Lincolnshire's 1940's singer, will bring you all your favourite music of the 40's at this wonderful afternoon tea dance. In association with the We'll Meet Again WW2 Museum, 1940's attire is optional. Ticket price of £10 includes tea and cake. Doors and bar open at 3pm. All ages welcome. Book now on 07713277104.
"On Stage In Frampton" presents Swing Back To The 40s
When: Saturday 27th April 7:00pm
Where: Frampton Village Hall, Middlegate Rd, PE20 1AR

To celebrate VE Day Join vocalist Joanne Shields, Band Leader Gordon Grant and "THE FANFARE SWING BAND" for an evening of great music & nostalgia. Tickets £10 by calling 723971. Bring your own rations. 40s dress optional. Prize for best dressed.